MedRhein Green Spring SARS-CoV-2 Antigen Rapid Test Kit Rapid Test (colloidal gold) AT417/20 – Box of 25
---
MedRhein Green Spring Antigen Test (blue clinical variant) for direct pathogen detection of SARS-CoV-2
---
No.1 in sensitivity performance* | HSC common list (RAT-ID: 2109) and CE certified | EU Common List under AT417/20 | PZN: 17394138
German Laboratory Evaluation (PEI): Green Spring: Sensitivity performance No. 1 out of a total of 122 evaluated tests!
The manufacturer has also clinically verified and confirmed in writing that the Green Spring rapid test also reliably detects the Delta and Omicron variants.
---
Advantages of the MedRhein Green Spring Antigen Test

✓

High specificity


✓
Very sensitive at high viral load

✓
Easy to use: Fast and reliable test results in just 15 minutes

✓
4 Sampling methods:
– Saliva (Lolly test)
– Anterio-nasal swab (Anterior nose / Nasal)
– Nasopharyngeal swab (nose and throat)
– Oropharyngeal swab (throat)
✓ Can be stored at room temperature

✓
All test components, including sterile swab, are included
The test is thus particularly suitable for:
✓ Test centers
✓ Clinics
✓ Care facilities
✓ Kindergartens, daycare centers and schools
All companies that are assigned to a system-relevant area may now, on the basis of the amended MPAV, obtain such rapid antigen tests directly from the manufacturer, from wholesalers or from pharmacies themselves and have them applied by trained personnel (who do not have to be medical personnel!). Thus, you may also use these tests in self-testing if your staff is trained.
It is possible to perform the antigen test yourself under the guidance of trained personnel. The specialist must then prepare the smear and finally evaluate the test. A variety of nursing homes, testing centers and manufacturing companies use our Green Spring SARS-CoV-2 Antigen Rapid Test.
---
Technical data: sensitivity and specificity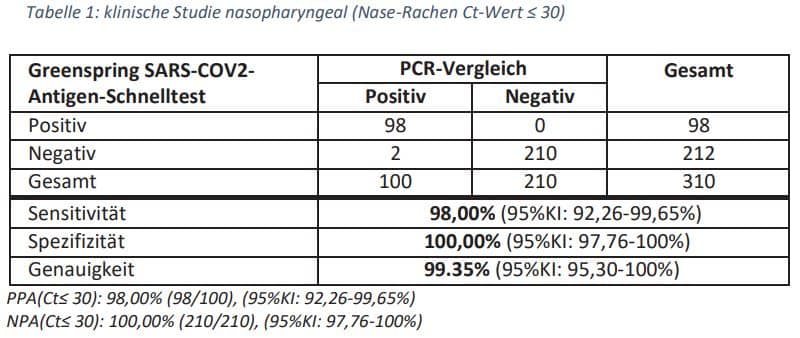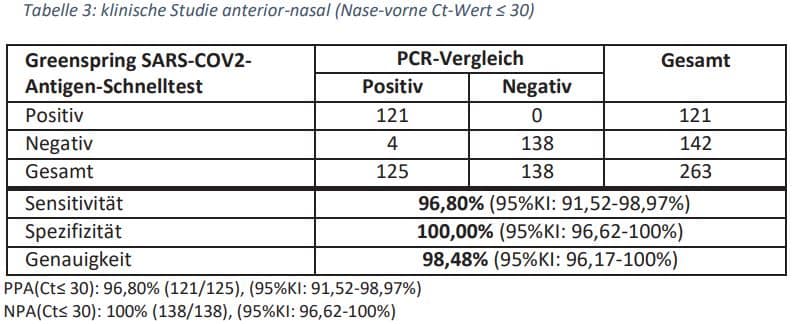 ---
Package contents (scope of delivery)
25x sterile swabs
25x extraction tubes
25x dispenser cap
25x test cassette
25x buffer solution (20x 450 µl)
1x storage station
1x instruction manual
---
Instructions for use: How to use the MedRhein Green Spring Antigen Test
The Green Spring Sars-Cov-2 Antigen Rapid Test Kit can be performed as a lollipop test, as well as anterio-nasal (nose front), nasopharyngeal (nose throat), and oropharyngeal (throat). This makes Green Spring one of the few tests on the market that can be applied so broadly.
In addition, the buffer solution is already pre-filled in this new version, so that a work step is eliminated during performance and the test can also be output individually.
Test execution
1. Preparation
Wash hands and leave dry.
2. sample collection
Collect sample through saliva, nasal, pharyngeal or nasopharyngeal with swab.
3. test procedure
Enter the sample solution in the sample well of the test card.
4. test result
Wait 15 min and then interpret result in 5 min.
---
---
Manufacturer information
Product Name: Green Spring SARS-CoV-2 Antigen Rapid Test (Colloidal Gold)
Manufacturer: Shenzhen Lvshiyuan Biotechnology Co.,Ltd