Seni

Nourishing foot cream with 7% UREA

(100ml)
Nourishing foot cream SENI Care with 7% UREA smoothes the skin and provides it with moisture.


[dt_divider style="thin" /]
Product application on the body:

</ div>
Product features:
The SENI Care foot cream has a special active formula. It cares for cracked and calloused foot skin and contributes to suppleness.
Enriched with UREA, it reduces dry and rough skin and counteracts moisture loss.
Thanks to the active ingredient SINODOR, unpleasant odors are reduced.
Active ingredients:
7% UREA
LINEN BIOCOMPLEX
VITAMIN A
ALLANTOIN
GLYCEROL
LACTIC ACID
SINODOR®
Anwendung: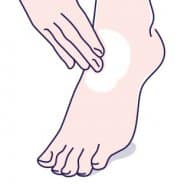 Apply to dry skin and massage in, use daily.