The intelligent bed pad "Wisbi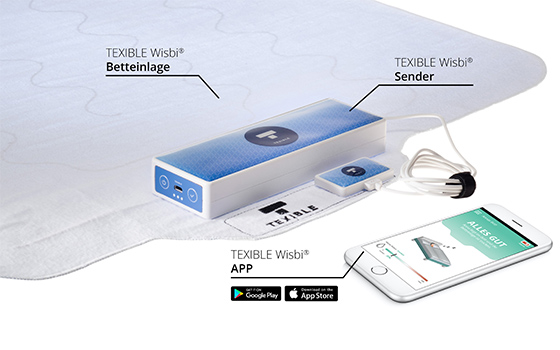 TEXIBLE Wisbi - for targeted care with focus!
TEXIBLE Wisbi is an innovative bed pad that automatically sends an alarm as soon as the person is on a wet surface or leaves the bed.
The innovative alerting system enables targeted care. There remains more rest, especially at night, and therefore more energy for the following day. Depending on the care situation, further incontinence products can be dispensed with entirely, thus maintaining the feeling of independence for longer.
This results in a physical and psychological relief of the nursing staff and the persons to be cared for.
Best of all, Texible Wisbi is suitable for both care facilities and home care!
Intelligent alerting
Reduced maintenance due to alarm when wetness is detected
Easy handling
TEXIBLE Wisbi is unpacked, connected and ready for use in less than 30 seconds

Maximum lying comfort
Very comfortable lying thanks to a double roughened cotton flannel
Non-slip
No slipping of the bed liner due to a special functional fabric on the underside
Waterproof
Protects the mattress as well as the sheet from moisture and reduces the need to change bed linen
Breathable
Minimal sweating due to a multi-layer construction and a breathable, waterproof membrane
High wash resistance
Washable at 95 ° and thus sustainable and environmentally friendly
3x thinner
Thinnest washable incontinence bed pad, 3x thinner than comparable pads
If a person at risk leaves the bed, or the textile comes into contact with a liquid, a signal and as a result an automatic alarm is given to the nursing staff. TEXIBLE Wisbi is very easy to use and resistant to washing. The Sensortextil is used both as a bed liner and in modified versions in various care areas.
Prompt alerting supports nursing staff in their daily work and at the same time improves patient safety and well-being, since more targeted, needs-based care is possible and patients do not have to be woken up unnecessarily, among other things.
Available in the following versions:

Wisbi HOME (for home care)
Contains: Bed pad, transmitter, app
Help for home – Wisbi with app. Certainty at any time how your loved ones are doing!
Hygienic, wash-resistant and very easy to use.
We are also happy to advise you for home care! You can reach our customer service here.
Wisbi PLUS (for inpatient care)
Includes: Bed liner, transmitter, socket receiver
Helping to improve the care of individuals with incontinence and bedriddenness or at risk for falls, and enabling more efficient use of staff resources through more focused care. More time for the essentials!
With the socket receiver Eldat RCL07 Wisbi can be connected to all common call systems !
We offer care facilities the opportunity to test the "Wisbi" bed liner without obligation. To make an appointment, you can reach us here.
Do you have any questions?
Our care experts are always happy to assist you personally and advise you on the selection of suitable products for your needs.